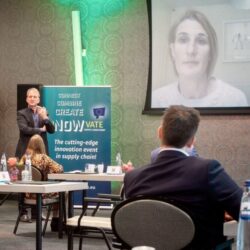 Janet Godsell, professor of operations & supply chain strategy at the University of Warwick, provided insights on the impact of the current pandemic during her keynote presentation at inNOWvate Supply Chain Event, October 13 2020. 
Based on her survey of 250 senior supply chain managers about the consequences of COVID-19, she provided some insights on this topic. The results showed that 58% of companies are still struggling with a decline in demand three months after the lockdown in Europe.
"The most popular strategy to arm themselves against disruption was to create buffers in the form of additional inventory. Stock is indeed a great buffer, but only when demand increases. It's not such a good buffer if the demand falls away overnight. In that case, the stock puts huge pressure on working capital – at the expense of the cash flow, which is especially important at that time."
Did you miss inNOWvate Supply Chain Event 2020 live?
The keynote presentation of Janet Godsell is recorded and published on the YouTube channel of Supply Chain Movement. The slides of the presentation are available for downloading here.